Feeding cavies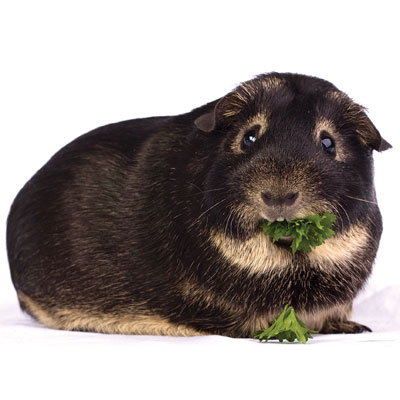 It should be remembered that, like human beings, cavies cannot manufacture vitamin C so a daily supply of green food or roots needs to be made available. The options are numerous with grass a No. 1 favourite in summer time along with a good mixture of weeds (dandelion, sow thistle, hogweed, plantains, etc.). Perhaps cultivated foods are more familiar and cauliflower and cabbage leaves along with apple cores, cucumber, etc. can be fed. Carrots and raw beetroot can be bought in bulk and are favourites too. Kale, swede and fodder beet are other alternatives for autumn and winter feed.
Dry food can be one of the many special guinea pig mixes and these can offer a near complete diet but would you like muesli for breakfast, dinner and tea? Variety improves the quality of life. Other options are crushed oats, bran mash and dried/baked bread. In addition it is necessary to give good meadow hay daily as bulk fibre and to occupy the pig's day. Freeze-dried grass (e.g. Readigrass) is also recommended as an addition and treat.
The normal arrangement is to feed dry food in the morning with greens or roots fed in the evening along with a handful of hay but some people feed only once a day and provided sufficient volume and variety is given in the one feed, there should be no detrimental outcome.
Water should be made available, especially if one relies mainly on the special mixes with only a limited amount of green food.
Suitable fruit and vegetables for cavies
Wild plants
Bramble - young leaves, remove thorns
Chickweed - has white flowers - don't confuse it with scarlet pimpernel which is poisonousv Cleavers - goosegrass
Clover
Coltsfoot
Dandelion
Dock - young leaves only, not after it goes to seed
Grass - all time favourite!
Ground Elder - as for Dock, young leaves in Spring only
Groundsel - if rust and fungus free
Mallow
Plantain
Shepherd's purse
Sow thistle or milk thistle
Vetch
Watercress - a little only - be aware of liver flukes if picked from streams
Yarrow

Cultivated fruit and vegetables
Apple - in moderation
Banana - including skin
Beetroot (raw) - quartered
Broccoli - leaves and stems
Cabbage - all kinds, dark green leaves preferred
Cauliflower - leaves and stems
Carrot
Celeriac
Celery
Chicory
Corn on the cob - silk, leaves, corn and all
Cucumber
Dill
Fennel
Kale
Lettuce - a little occasionally only - contains Laudanum
Mangold
Melon rind
Parsley
Parsnips - will eat a little
Pea pods
Pear - though not popular
Runner beans - and leaves
Spinach - a little only - very high in oxalic acid
Spring greens
Strawberry leaves
Swedes
Tomatoes - some guinea pigs will eat these
Garden flowers
Asters
Cornflowers
Golden rod
Marigolds - Calendula
Nasturtiums
Phlox
Sunflowers
Sweet peas
Wallflowers

Poisonous plants
Bracken
Bryony
Bulbs - any plant growing from a bulb - daffodils, crocus, etc.
Buttercup
Clematis
Convolvulus - any of the bindweeds
Dock when seeding
Elder
Foxglove
Iris/flag
Laburnum
Lily of the valley
Lupins
Mares tails
Poppies
Potato leaves
Privet
Ragwort
Rhododendron
Rhubarb leaves
Scarlet pimpernel
Speedwell
Spurge
Wash 3: Designed by Simon Neesam for the British Cavy Council © 2009